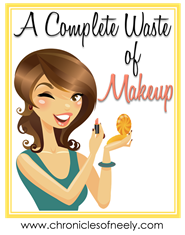 Neely over at
A Complete Waste of Makeup
is having a link up where you can discover new blogs. I love link ups because I have found a lot of blogs I enjoyed reading through the link ups. And meet some new blog friends as a result! What's not to love? I figured this would be a fun thing to do!
HI! I'm Kristin!
(excuse my dorkish wave. my mother took this in disney world)
I'm 25 years old.
I graduated in May 2011 with my Masters in Adolescence Education w/a Middle Childhood Extension for Spanish. Wow, that's a mouth full!
I am also certified to teach Special Education.
I'm the baby of my family and the only girl. Don't worry, I can hold my own!
I started my blog when I was on "vacation" from my job for a week because I had surgery. I wasn't suppose to do any lifting of anything so I laid in bed and read so many blogs. Adoption blogs, random blogs, and just fell in love with the world of blogging.
I decided to create a blog because hey, life is worth documenting, regardless if anyone reads it or not! :)
Aside from family,
my friends
are my life.
I like to talk about our plans/adventures here a lot. I also enjoy hanging out with my boyfriend, shopping, laying out at the beach, reading a good book and spending time with my nieces and nephew.
My youngest niece Emma Grace <3
My goddaughter & I in Epcot
My nephew Steven
I try to look at the bright side of life.
Life's too short to have anything but fun and laugh at yourself.
If you can't make a fool of yourself, then what's the fun?
(Yes, I am a dork)
I studied abroad for a semester in Seville, Spain.
I love to travel
and cannot wait to go back to Europe. Aside from Spain, I went to London, Amsterdam, and Ireland.
(Me in Plaza de Espana)
I work for California Pizza Kitchen. I'm a hostess aka I like to play musical chairs. I like my coworkers and the managers are pretty sweet too!
I only like three vegetables - corn, carrots, and green beans. I guess you can consider me to be a picky eater.
I am a HUGE Jennifer Aniston fan and cannot WAIT to meet her one day (hopefully!!).
I would rather buy purses over shoes any day of the week. My current obsession is the MK bag I got for Christmas!
I have an obsession for office supplies. I just love buying them!
Some of my favorite TV shows include Grey's Anatomy, FRIENDS, Gilmore Girls, Law & Order SVU.
I love quotes. I think they are perfect explanations for things in life. This is one of my favorites:
And I love meeting new people! Feel free to say hello!